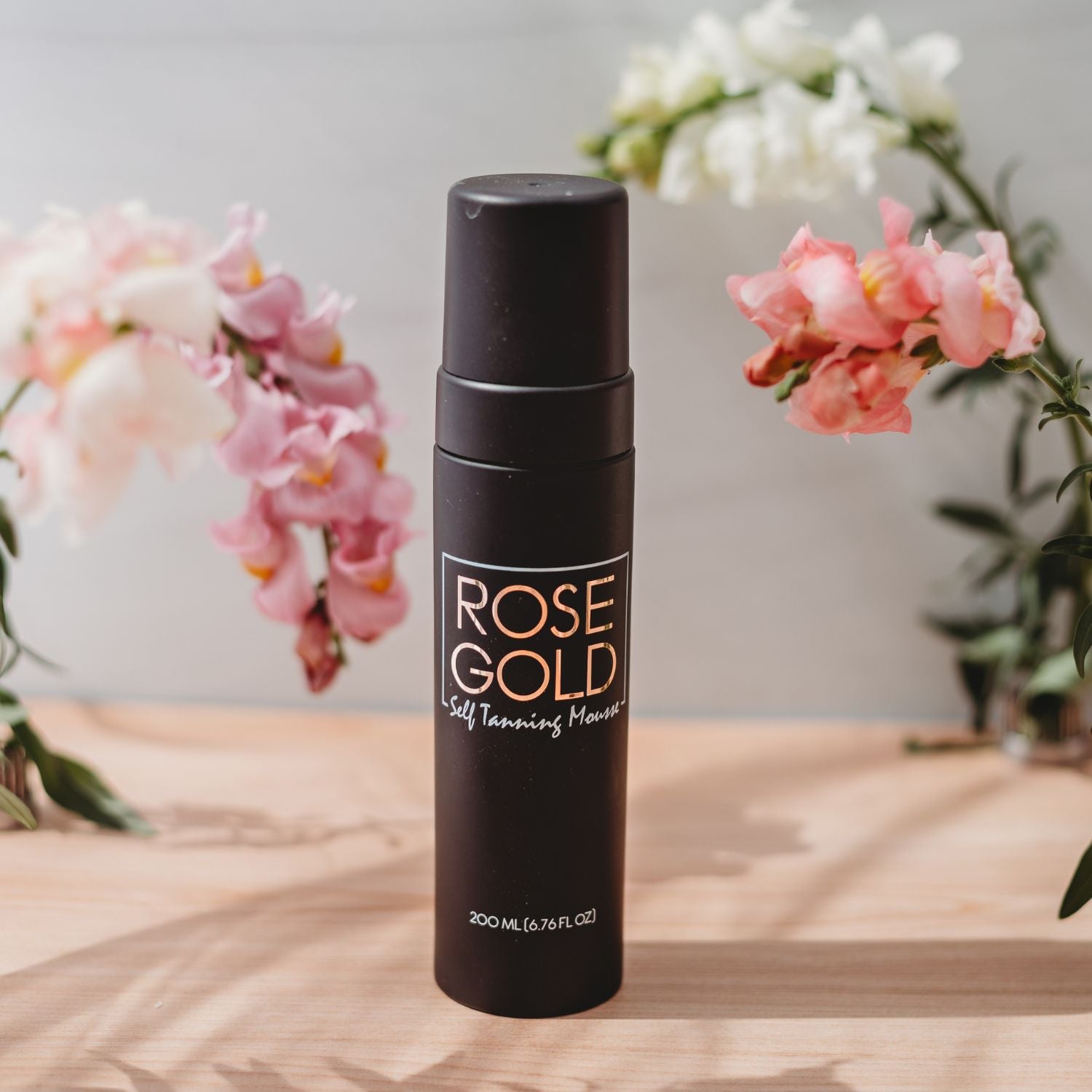 Rose Gold Sunless Self Tanning Mousse IMPROVED FORMULA!
Self Tanning Mousse
Rose Gold self-tanning products are made in small batches so they are always fresh.
LOVED by many you will want to grab 2 bottles so you always have your favorite glow on hand!
It's time to try our self-tanner and experience your natural glowing beauty!
Melts into your skin and develops into a beautiful rich natural tan!
Best Self-Tanning Mousse
Rose Gold Self Tanning Mousse gets your skin glowing with the power of naturally sourced DHA and antioxidants. Brighten your skin tone, camouflage unevenness, and nourish your skin gently with whipped foam. Many customers rave about how this self-tanner is "like skin care in a bottle".
EASY to apply, doesn't smell, and is streak-free.
We recommend buffing the whipped tanning mousse into your skin with our premium velvet tanning mitt for a perfectly smooth tan and clean hands.
No Dirty Orange here!
Self-Tanning Mousse Ingredients:
100 % Natural DHA from sugar cane creates a beautiful self-tan gentle for sensitive skin
Neroli Hydrosol 

is

 an

 effective

 moistur

izer

 and

 can

 help

 to

 improve

 skin

 tone

 and

 texture

Argan oil rich in omega-3 and omega-6 helps protect and moisturize skin
A pro-quality formula for anyone who wants to achieve flawless, glowing, camera-ready skin for weddings, family photos, beach vacations & everyday color. 
This self-tanning mousse is LOVED by models, makeup artists, and social media influencers but we think YOU will love it for its:
Buildable color--layer to create the PERFECT CUSTOM shade

Neutral Color Guide--no weird off-colors here

100% Natural DHA

Believable Natural Tan--did you just come back from Bali or have a quick weekend in Florida? You decide!
Concentrated-a little goes a long way
Gentle--of course, you can use this whipped loveliness all over
How to Apply Self Tanning Mousse:
Shower/Shave/Exfoliate 24hrs before self-tanning
Use an UNSCENTED moisturizer on dry areas such as hands, feet, knees, ankles, and elbows prior to application
Pump 1-2 pumps of whipped mousse onto your velvet mitt and buff into your skin in circular motions working on one area at a time
Tan your hands, feet, and bendy spots last, blending lightly over these areas with the leftover product on your mitt
Stay dry and watch your tan develop in 8 hours
Rinse off to reveal your beautiful tan
ALL ROSE GOLD SELF-TANNING PRODUCTS ARE MADE IN THE USA IN SMALL BATCHES! 

Fresh, Cruelty-Free, Vegan, Gluten-Free. All Natural and Organic Skin Nourishing Ingredients.

6.7 OZ FOAMING BOTTLE

OUR PREMIUM VELVET SELF-TANNING MITT IS RECOMMENDED FOR A FLAWLESS APPLICATION. CLICK HERE TO ADD ONE TO YOUR ORDER.