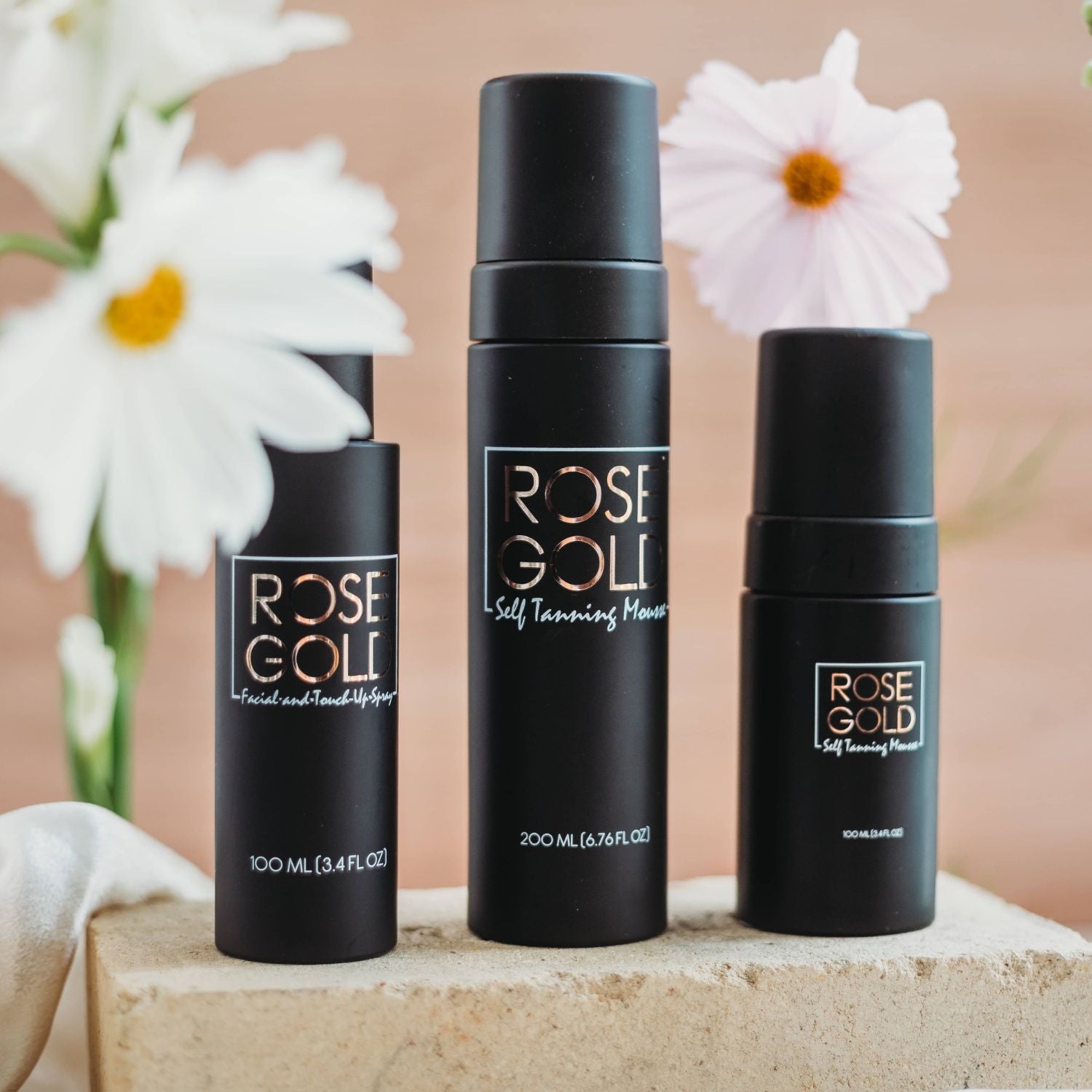 Self Tanning Kit
Elevate Winter Spirits with a Luxurious Self-Tanner Gift Set for Your Loved Ones
Winter's chill has arrived, leaving many of us yearning for warm, sunny days by the sea. While you might not be able to whisk your loved ones away to a beach vacation this Christmas, you can certainly gift them the radiance of a sun-kissed glow right in the comfort of their own home. Discover the perfect self-tanner gift set that will chase away those winter pasties and have them embracing a beachy vibe all year round.
Introducing the Rose Gold Self-Tanning Bundle: A True Sunless Tanning Marvel
Embrace the power of professional self-tanning with the Rose Gold self-tanning bundle. This set holds the key to achieving a flawless, sun-kissed complexion without the need for sun exposure. It's the ideal gift for anyone who craves that beachy radiance even during the coldest months.
A Comprehensive Self-Tanning Kit for the Ultimate Tanning Enthusiast
Our meticulously crafted self-tanner gift set is designed to fulfill every tanning aficionado's dreams. Inside this luxurious bundle, your tanning addict will find:
1. The Ultimate Applicators for Seamless Tanning
Experience smooth and even application with our included velvet body applicator mitt and kabuki brush for the face, hands, and feet. A deep exfoliating mitt is also included, ensuring the skin is prepped to perfection before tanning.
2. The Perfect Tanning Arsenal
A full-size tanning mousse, a self-tanning facial mist, and a convenient 3.4 oz travel-size self-tanner are part of this set. Whether they are homebound or jetting off to a beach escape, they'll always have the tools for a flawless tan.
Mastering the Art of Self-Tanning for Vacation-Ready Skin
Before gifting this self-tanner treasure, consider pairing it with additional thoughtful items that enhance the tanning experience:
1. Stylish Post-Tan Pajamas
Soft, loose-fitting pajamas provide the perfect attire to slip into post-tanning. Not only do they safeguard the developing tan, but they also protect bedding while offering comfort and style.
2. Chic Dress for Salon Spray Tans
For those who indulge in salon spray tans, offer them the ultimate after-tan dress. Soft cotton with a V neckline for easy removal, shoulder coverage, and pockets, it's the perfect ensemble to preserve their bronzed glow.
3. The Luxurious After-Tan Robe
A soft Jersey fabric robe won't disrupt the freshly applied tan. It's the epitome of luxury for every sunless tanning enthusiast.
4. Sunless Tanning Sheet Protector Set
The breathable, lightweight luxury sheet protector ensures easy washing and quick drying.
5. Year-Round Sun Protection
Incorporate a spa-quality sunblock to your gift basket or stocking stuffer. Show your loved ones that you care about their skin's health all year long.
Embrace the Sun-Kissed Spirit of the Season
This holiday season, be the bearer of warmth and radiance with the perfect self-tanner gift set. Whether it's for your mother, a teenager, or anyone seeking that radiant glow, this bundle promises the gift of sun-kissed confidence. Dive into the season of giving with the joy of a beachy glow that lasts all year round.
In Conclusion: Gifting the Sun-Kissed Glow
With your Christmas list in hand, it's time to treat your loved ones to a self-tanning kit that reflects their desire for that golden glow. From luxurious robes to silky sheet protectors, you have the power to give the gift of sunshine – even in the midst of winter.
Give the gift of luminous radiance and make this a holiday to remember.