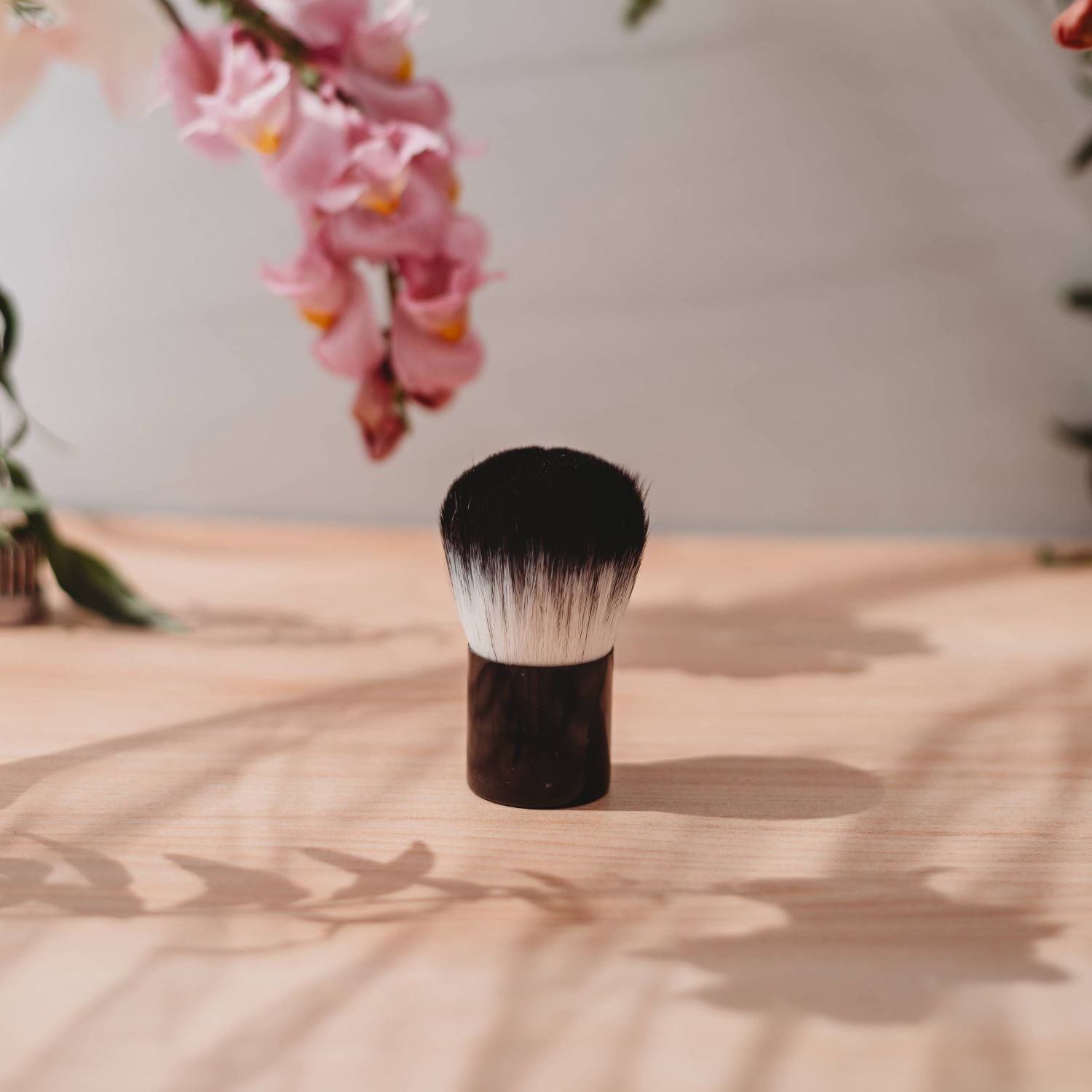 Kabuki Brush For Self Tanner
 Best Self Tan Brush
We think this is the BEST self-tanning brush for the face & body!
When you are applying your makeup a flawless, blended, natural-looking finish can only be achieved when the color is applied with a brush. We designed our plush kabuki face and body brush to do the same thing for your sunless tan and work perfectly with our Rose Gold Self Tanning Mousse.
This kabuki brush has densely packed domed bristles to pick up our whipped tanning mousse and blend it seamlessly into your skin. The soft velvety bristles were designed to blend and contour our mousse easily to create the perfect self-tan giving you less chance of streaking. This brush is easy to hold giving you maximum control while applying your self-tanner.
Our face and body kabuki brush is completely washable and long-lasting.
Why Sam and I LOVE this brush:
Best Self Tanning Brush For Face
Applying the Rose Gold Self-Tanning Mousse or the Self Tanning Face Mist to your face and neck is EASY and flawless with our face and body kabuki brush.
Best Self Tan Brush For Hands

No one likes streaky hands and feet--it's the #1 spot where self-tans go wrong! And getting a streak-free finish on your hands and feet can be tricky. Using a brush instead of a glove to get into the creases on your knuckles, in between your fingers, and around your ankles/wrists creates a blended and contoured tan that mimics a professional spray tan application. Kathryn APPROVED!! This kabuki brush will upgrade your self-tanning to PRO LEVEL.
Best Self Tan Brush For Contouring
The dome of the brush adds extra control to create contouring just where you need it. It's a game-changer.
Places to contour; under your cheekbones, into your hairline by your temples, and down the sides of your neck. Don't forget those collarbones and decollete.